VIKE Fault Indicator
Underground cables
Overhead cables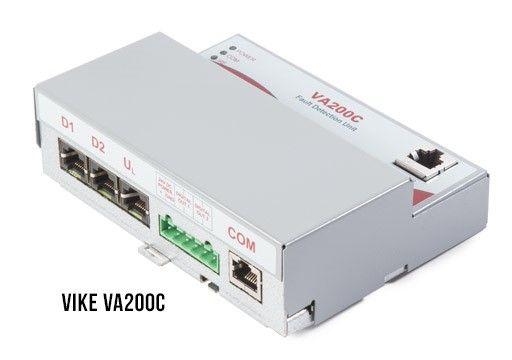 FEATURE
Fault detection functions
(FPI, Fault Passage Indication)
Single line to ground fault, double ground fault
Intermittent ground faults – PATENTED METHOD
Short circuits
Indication based on power measurements
Fault prediction
Registration of intermittent, short-term ground faults as disruption records and in the device's event log.
Compact construction
Rogowski coils
Measurement of two phase currents and the sum of the currents
Measurement of three phase currents
The same VIKE VA200C central unit is suitable for:
Underground cables
Overhead cables
Easy to install
Split-core after-market or forward-fitted Rogowski coils for substations
Rogowski coils integrated into post insulators for overhead cable installations
Plug-in cabling
Expandability
Basic configuration includes measurements for two outputs (two branches) Can be expanded for up to ten outputs
Power measurement
Measurement of phase voltage with capacitive or resistive sensors
ADVANTAGE
The VIKE VA200C fault indicator recognizes short circuits, ground faults, and intermittent ground faults and sends real-time data and alerts to the client regarding the fault and its direction.
BENEFIT
Fault location time and impact to the end customer are minimized. This enables high level of availability and quality of operation. The disruption recordings created for faults and disruptions can be used to analyze occurrences within the network.
Interested in Emtele services and would like to know more?