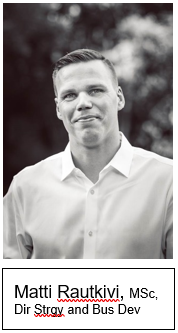 Emtele, a provider of automation and IIoT services that improve critical infrastructure productivity and ZeroFailure™ operation, has invited Matti Rautkivi, Wärtsilä's Vice President, Energy Strategy and Business Development, as a member of the Board. The appointment will take effect immediately.
Matti Rautkivi is responsible for developing the strategy of Wärtsilä's energy business (EUR 2.5 billion), focusing on innovations related to business growth and profitability. He leads a global team of 40 top professionals with a vision toward a 100% future for renewable energy. He has successfully developed global marketing.
"We warmly welcome Matti Rautkivi to Emtele's Board of Directors. He has a unique vision of the development needs of the energy industry and a broad management vision in areas important to Emtele, such as the development of global sales in technology and services. Matti Rautkivi will significantly strengthen Emtele's ability to provide added value to our critical infrastructure customers. He will also strengthen our expertise in the global operation of the partner ecosystem. I'm really excited about his global networks and marketing expertise in the energy sector, "says the company's Chairman of the Board Hannu Martikainen.
Matti Rautkivi, for his part, states: "It is great to be able to support Emtele's activities as a member of the Board. Emtele has strong expertise and a very interesting product and service portfolio with really great opportunities to create added value for customers. I look forward to Emtele being able to export this added value to customers globally. "
Emtele Board of Directors: Hannu Martikainen (Chairman of the Board), Markus Nummi, Jaakko Martikainen and Matti Rautkivi