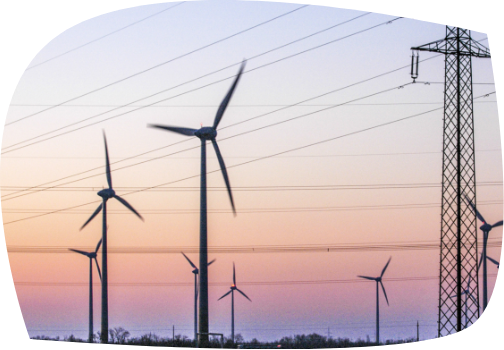 Promises and achievements
Not all services are alike. Ours is based on uncompromising proficiency. Whatever the level of reliability you require from your electrical network, you should demand the same from your partners.
For all the communications connections you want, we promise
availability (monthly average)
using mobile connections (eliminates the need
for underground optical fiber cables).
In practice, ensuring this level of reliability is only reasonable for critical targets. We offer exceptionally effective solutions for lower priority solutions as well.


We offer hardware-supplier-independent cooperation
To us, the manufacturer of your hardware is not significant. We provide optimized solutions based on your current situation. We are not beholden to any hardware supplier but are instead devoted to your figures.
Our expertise and understanding can be seen as savings in terms of the Service Level Agreement (SLA).
Our competence can be seen directly in the SLA.
We understand what will work in your situation and particularly where savings pay off and where they do not. This means that we can offer what you actually need for any of your requirements.
We eliminate
ambiguities pertaining to responsibilities
When you are using numerous individual technologies, products, and systems, it is challenging to manage them as a whole.
When you conclude a single contract, you only have to work with a single operator. This will ensure that in each situation it is absolutely clear who is responsible.
We specify all prices as total costs without hidden fees or surcharges.
This has on occasion caused us to lose out in competitive tendering, but our style remains the same. Trust is earned.
We offer
improved environmental friendliness
Secondary substation automation can be used to reduce hours of disturbances to mere minutes. This reduces the use of reserve power plants by the users, which are often powered by diesel.
Remote use allows us to control devices remotely. This means that it is not always necessary to drive out into the field to check whether everything is in order. This provides considerable savings in reduced fuel consumption alone.
What we have achieved with our customers
Our customers are different: operators of different sizes in various situations in both urban and rural environments, producing energy through different methods.
This means that it is impossible to make promises for the future without examining each individual situation. But the figures of our customers should provide excellent indication of the direction of the impact.
(Note! We are by no means claiming that all improvements are caused by our work alone. On the other hand, we can proudly say that we have been involved in numerous projects where great things have been achieved.)
Case Helen Electricity Network
MUKE, FieldCom, and fault indication implemented in approximately 500 Helen Electricity Network substations. Some substations have been updated to modern standard using motor-drive mechanisms. Even though some substations are located dozens of meters below ground, we have been able to ensure impeccable FieldCom functionality at all sites.
The first 200 substations were completed at a rate of 100 substations per year.
All substations are supervised under Emtele's multi-client environment, and the customer can control them remotely from their operating center.
The project/implementations are still ongoing.
Ota yhteyttä tai varaa maksuton konsultaatio
Varaa aika keskusteluun kanssamme.
Tai kirjoita – ja otamme yhteyttä.